Language exchange project – partnership with Dhahabu Intel Centre school in Tanzania.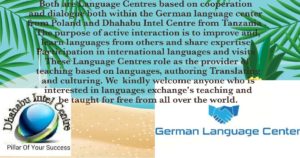 We started partnership with a school in Karatu (Arusha), Tanzania. Development of technology allows us to maintain contact and exchange experiences with countries from anywhere in the world. Our mission is to liaise with other schools and offer our support, which not only brings profits but also focuses on the exchange of knowledge. Each of our teachers may also engage in a project, develop their competence (not only language related), teach others, learn about foreign cultures and customs, contributing to the common goods and ameliorating disparities in opportunities for people from all over the world.
What benefits do the Goethe-Institut certificates bring?
The certificates clearly show the level and quality of learning: students receive information on the level of their speaking, comprehension, reading and writing skills as well as the progress they are making. All this translates into the labor market.
The certificate takes account of all levels and abilities included in the Common European Framework of Reference for Languages.
In some countries, people holding Goethe-Zertifikat B2 and Goethe-Zertifikat C1 certificates do not need to sit the secondary school final examination in German. In many EU universities Goethe-Institut certificates are recognized in the form of additional credit points.
Persons with the C2 certificate may apply for admission to German universities or colleges preparing them to study in Germany, or teach German.

Żurawia 43 street, flat 301, 3rd floor
00-680 Warsaw